ROTONS Ltd.
ROTONS Ltd. is a Latvian company that produces bulky plastic products using two types of technology:
1) rotating forming (used for manufacturing standard parts);
2) welding with extruders (used for manufacturing non-standard parts).
ROTONS Ltd. carries out individual orders and offers ready-made products – industrially made pumping stations, flow meters and valves wells, individual water metering connection wells with thermal insulation, as well as smaller plastic products: tanks, pallets, barriers, flower pots, etc.
The company's plant is equipped with a rotating molding machine to produce components from polyethylene and polypropylene, as well as polyurethane foam dispensing equipment. Combining these technologies enables the production of plastic products with unique insulation properties.
HISTORY
2006

Foundation of ROTONS Ltd. Company starts manufacturing PM500 isolated water measurement wells, using a unique method of polyurethane encapsulation.

2007

Launched production of sewage pumping stations in diameter Dn1200 to Dn2500.

2009

Launched production of TS50 grease separator, plastic pallets and road barriers. SIA ROTONS begin to develop the large-diameter (> 1000 Dn) plastic framed systems. This product development received LIAA (lia.gov.lv) support in the program Development of new products and technologies.

2010

ROTONS Ltd. launches production of PM400 wells. More than a thousand PM400 and PM500 wells supplied to project in Siauliai, Lithuania. Export of sewage pumping stations to Estonia and Lithuania. The company starts producing biological treatment plants with the aeroblocks operating principle.

2011

Export of sewage pumping stations to Lithuania, Romania and Russia. The largest pumping station produced by ROTONS Ltd. (Dn 3000, H=9000 with Wilo Dn350 pumps) are delivered to Liepaja. The company is 3rd place in the competition organized by LIAA – Export and Innovation Award 2011.

2012

Launched production of RS3000 septic tanks. Manufactured and supplied tanks for water treatment systems for biomass CHP plants in Olaine and Riga, Ziepniekkalns. Participation at exhibition IFAT2012 Munich.
COMPANY'S CLIENTS IN EUROPE AND ASIA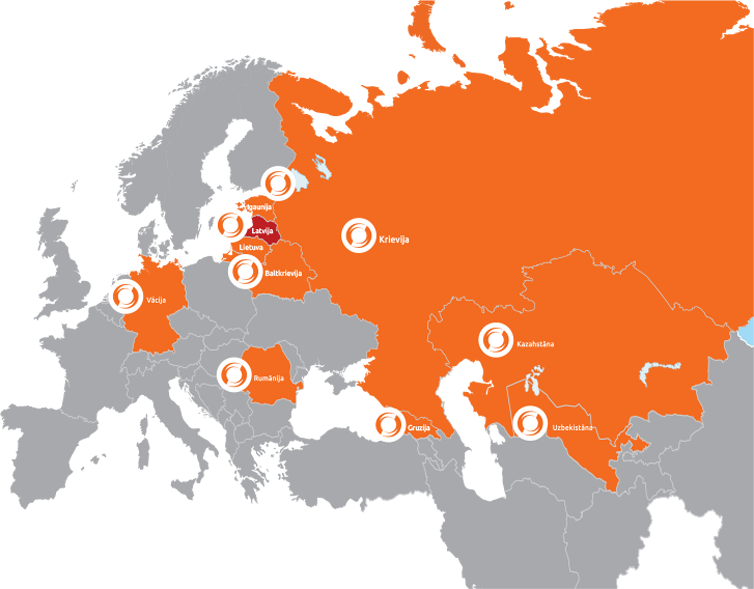 VIDEOS
Scene from LNT broadcast MADE IN LATVIA

16.08.2011

Find out more about our production range and how large plastic products are made at the ROTONS plant, standing next to them a man looks like an ant!

The decade-old ROTONS' motto - INNOVATION AND AN INDIVIDUAL APPROACH TO PROBLEM-SOLVING.